Hillary Haggerty - Winner of the Fly Vest 2014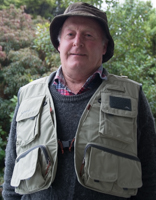 With a full course again this year (17), and the weather gods on our side, we were hopeful of a good time for the participants.
An excellent class, plenty of thoughtfull questions asked, and soon it was afternoon tea time. After tea it was off to the park for casting tuition and practice to remove all those nasty habits learned during self tuition. As it turned out the casting practice on the park was in fair weather, a little on the bright side some would say. With a good number of club helpers the course members were off to a good start.
On Sunday morning we again assembled at the bridge on the Mataura at Wyndham.
The first couple of hours was again more casting practice, this time on water, which is quite different to doing it on the park. Everyone seemed to cope very well, and to top it off a couple of fish were caught at this time. An early'ish lunch then it was time to split up into small groups and go fishing for real. Not a lot of fish were caught, seemed to be that while conditions were ideal, numbers of fish were low, not sure why that should be, but it happens.
We look forward to the course members coming to meetings and enjoying the benefits of the club.
SFFC would like to acknowledge & thank our Sponsors
~~~~~~~~~~~~~~~~~~~~~~~~~~~~~~~~~~~~~~
Hunting & Fishing, Invercargill who provided the Simms Fly Vest.
Manic Tackle provided some fly fishing items for each of the course participants.
Goat Head for Sole Spikes.