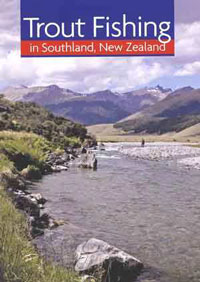 This excellent book from Fish & Game New Zealand - Southland region, is every fisherman or fisherwomens wish. A handy reference that provides brief details for lakes, rivers and streams all over Southland, that can be carried with you where ever you go.
Access points and location maps are included to guide you there, with recommendations on the best months to fish, with recommended flies and lures to use. No matter what method of fishing you choose, this is a must have book and extremely cheap at the price of $25. Copies can be obtained at Fish & Game 159 North Road Invercargill phone 03-215-9117
The picture below, is only a small section of one map, to show the detail given in the maps. There are fourteen maps through the book.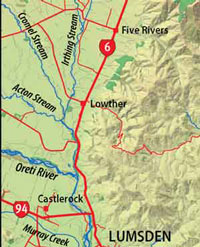 This is a section from the book page 77 - Mataura to Gore 12km The water above Mataura is again a shingle bottom with good banks and clumps of willow. It is very easily waded and is suitable for all methods of fishing.
Although the size of the fish in the area is slightly smaller than the lower reaches there are plenty of fish averaging 1kg, with fish up to 2.0kg not uncommon. There are excellent roads on both sides of the river, but easiest access can be obtained from the east side and from Mataura to Gore any reach is worth a cast. As the road follows very close to the river, good access may be had almost anywhere. A particularly good spot is Beattie's Beach. On the west bank, follow the main highway towards Gore and the first easy access is a turn to the right along Given Road. An excellent camping ground is situated in the town and hotel accommodation is also available. There is a wealth of trout fishing to be had with headquarters at Gore any local sports store will be pleased to direct visitors.